Outsourcing your company's lead generation – if done correctly – can be highly effective in filling your sales funnel and increasing turnover.
This initial step of attracting potential customers is usually handled by a sales development representative (SDR). With SDRs taking care of lead generation, account executives can then focus on closing deals.
When working with outsourced SDRs, it's important to be clear on your criteria and desired outcome before committing to a particular vendor.
In this article, we discuss what to look for in an outsourced sales development representative and what specific questions to ask to ensure your chosen vendor is a good fit for your company.
What is a sales development representative?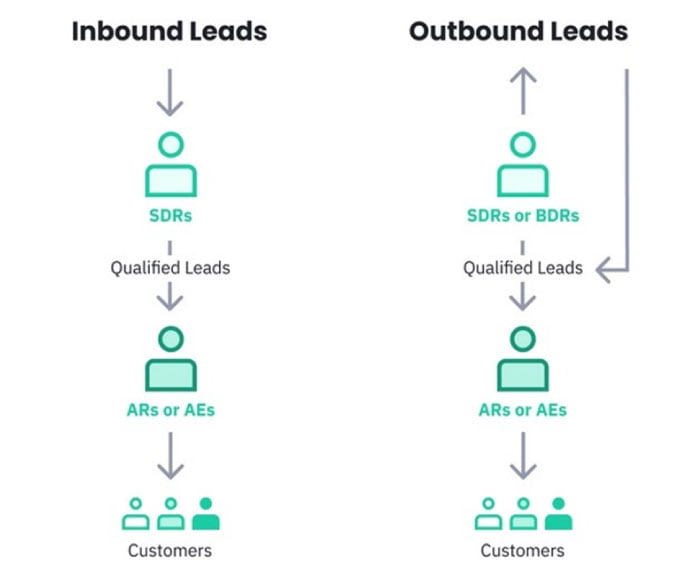 Source: ActiveCampaign
An outsourced sales development agency's role includes outreach, prospecting, and identifying qualified leads. The aim of an SDR is not to close business, but to connect with as many leads as they can via methods like cold calling, while ensuring they're good potential customers for your business.
If a lead is determined to be a good fit as it moves through the sales pipeline, the SDR will schedule the next steps with more senior sales reps in your business.
How much does an in-house SDR cost compared to an outsourced vendor?
The financial outlay for an in-house team largely depends on a number of variables, including location and experience. Likewise, the cost of an outsourced vendor can vary depending on the agency's expertise. When looking at the difference in price, it may be better to consider how inefficiency could cost your business.
Building an in-house team of junior sales development reps leaves you vulnerable to an initial low lead efficiency score, which can create major pain points in your growth goals. Outsourced lead generation services, on the other hand, are around 43% more efficient. Even if outsourced vendors quote a higher fee, they don't require extensive training, benefits, or other costs associated with full time employees.
In many cases, especially where speed is a concern, outsourcing your SDRs can actually reduce risk. By hiring high-quality, dedicated SDRs, your ramp time will shorten and your cash flow will thank you.
How do I choose the right outsourced SDR service?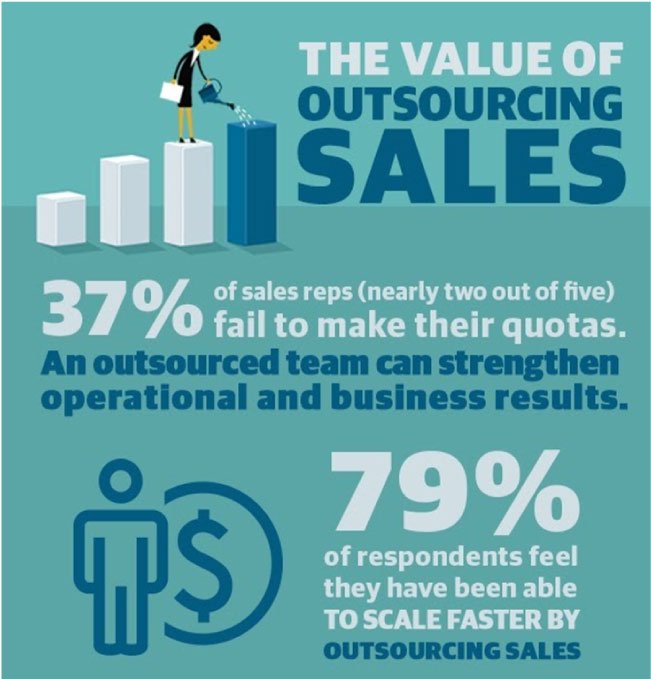 Source: TTEC
The SDR sector is a crowded one, and it can be overwhelming to choose the vendor that's the right fit for your business. But, to avoid stunting your company's growth, it's important to make a decision fast. There are a few key factors to consider which will narrow down your options:
Cost vs. ability
It's not hard to find sales teams that will sell leads to you, but it's advisable to avoid basic call centers and newcomers in the market.
Although it might be tempting to go for the cheapest outsourced sales development team, this option is likely to cost you more in the long run. Not only will you be losing money (matter how cheap it cost), you'll also be losing out on sales opportunities.
Like most things of quality, the great SDRs won't be the ones charging the least. But instead of focusing on the initial financial outlay, think more about the value a team of experts will offer.
Alignment
Get to know the capabilities of the SDR you're considering hiring, and ensure they align with the unique needs of your business.
For example, are you looking for a vendor to handle your entire sales process, or are you looking to expand into a new area where you've previously failed to have success in? Maybe you're only looking for some help to perfect your sales prospecting process or identify your ideal customer? Ask yourself what outcomes you expect, then ask the SDR how they can deliver.
Reputation
Reputation is key when looking to hire an outsourced SDR service. Check the potential vendor's website and social media presence for recent reviews and testimonials.
Also, consider the quality of their content: does your potential hire have a blog? Are they active within the B2B space? This can be a great indicator of a sustainable business committed to quality and longevity.
Key questions for your outsourced sales development agency
Not sure what to ask sales organizations? Here are some great questions to help you delve into their credentials:
What would the sales outsourcing team look like?
What core competencies do you offer (B2B, B2C, etc.)?
What expertise do you have in our specific sector?
Can you demonstrate your track record?
What conversion rates do you typically achieve?
How can you provide support with [insert specific requirements]?
Can you demonstrate that you understand our needs?
What level of experience does your team offer?
Which tools/technologies do your reps utilize?
Are we aligned on KPIs, and what return do you guarantee?
A great vendor will drive your sales forward with innovative ideas and creative solutions, so ask how they might offer this service to your startup. This is a particularly important factor if you want your agency to lead the process for you.
Do I train an outsourced sales development representative?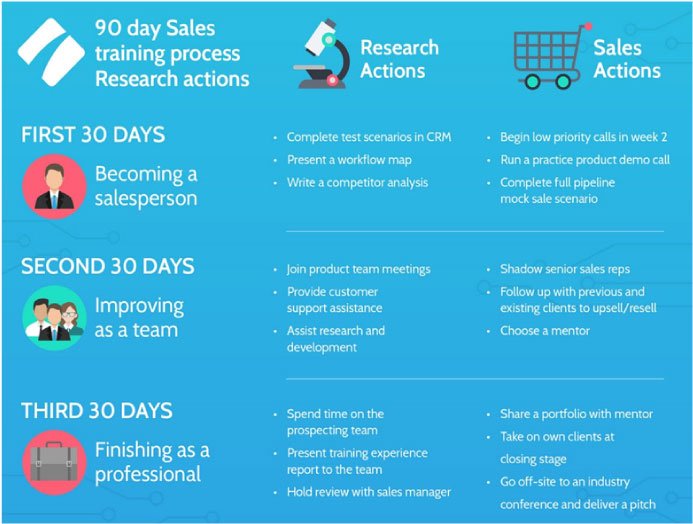 Source: Process Street
Once you've selected your outsourced sales development agency, there are a few steps you can take to maximize the efficiency of your onboarding process.
First, your representatives can't effectively sell something they don't fully understand, so the team working on your account should be thoroughly trained on your offering.
Once onboarding is complete, your involvement doesn't stop there. The most successful SDR relationships require full investment and open channels of communication from both sides.
Essentially, your external reps should be trained in the same way you would train internal hires. Aim for maximum engagement by ensuring you meet with them regularly and you fully understand their sales process.
It's important your SDRs also understand your processes, as well as your business goals, strategies, and KPIs. They should also be aligned with your internal sales and marketing teams.
A quality outsourced sales development agency can lead this process for you, so don't be afraid to ask for their input.
Final thoughts
Sales development outsourcing can be tough, but it's all about asking the right questions. By knowing as much as you can about an agency's experience, area of expertise, and the tools at their disposal, you'll be better equipped to make the right decision. Remember, just because an SDR is a correct fit for one company, it doesn't mean they'll be perfect for yours.
The following article was originally published on Referral Rock
Interested in exploring whether outsourcing lead generation is the best option for your company? Book a call with us here.